Products and Services
The list of products and services that A2 Hosting offers is almost too long to list. They have everything that one could need for an information page, personal page or business site. The following list of services is not exhaustive. It's only the tip of the iceberg when it comes to what A2 Hosting truly has to offer.
Domain Name Services
A2 Hosting offers a variety of services that pertain to the domain names. Customers can pick and choose new domains, or they can transfer their domains from another provider. Furthermore, they can have A2 Hosting as their web hosting providers. The prices for domain names vary according to the extension. They can be as low as $10.95 for a year's registration or as high as $299 and beyond. A2 Hosting offers a variety of extensions from which an interested party may choose. Some of the available extensions are .com, .net, .org, .info, .limo, .loans, .click and many more.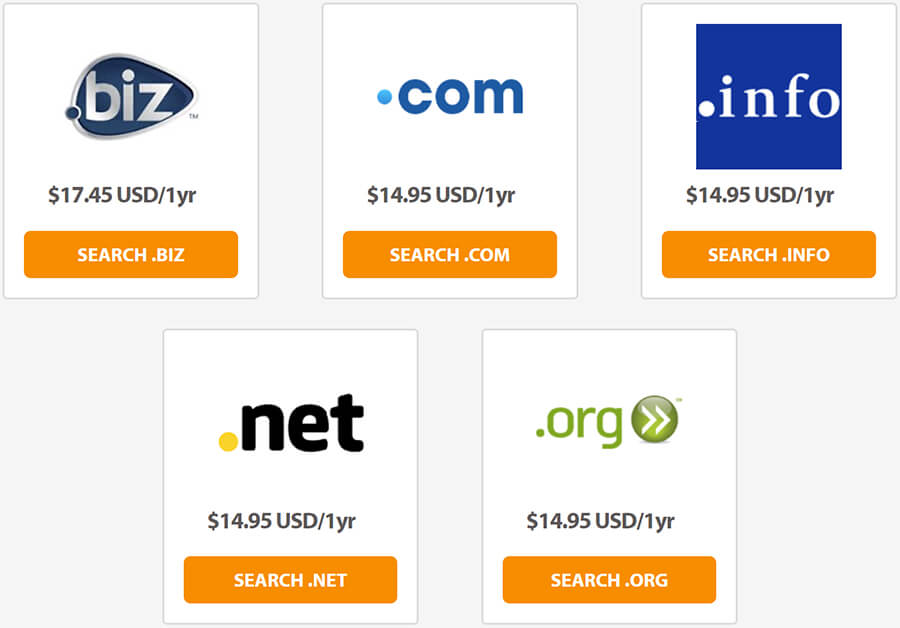 Shared Web Hosting
A2 Hosting is currently offering a 63 percent discount on its shared web hosting services. It offers three plans: Lite, Swift and Turbo.


The Lite plan costs $2.96 a month. Its regular price is $7.99 a month. It's an excellent option for people who only need to have one site. The package comes with one website, 25 email accounts, free SSL certificate, cPanel control, site migration and unlimited SSD storage and transfer.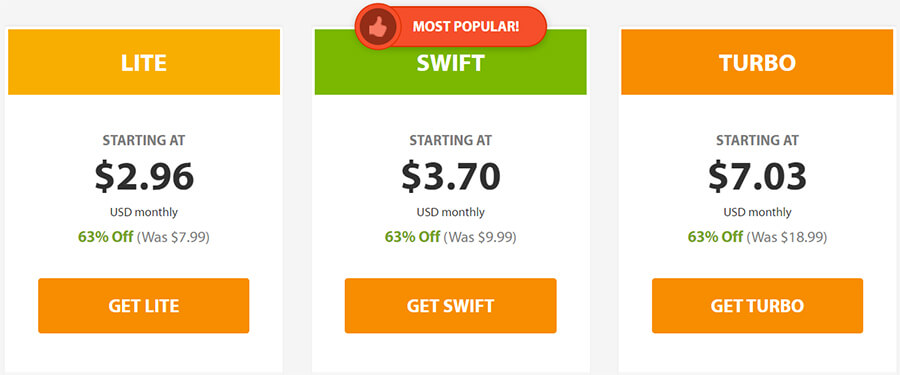 The Swift plan is good for users who need to have more sites and some additional resources. It offers everything that the Lite plan offers, but users can have unlimited websites. The plan also includes unlimited email accounts and free automatic backups. The price for this service is $3.70 a month. It has a regular price of $9.99.

The Turbo plan is the fastest plan of them all. Users should choose this option if speed is one of the most important factors. This one costs $7.07 a month and has a regular price of $18.99. It has everything that the Swift plan has in addition to being 20 times faster than the other plans'speeds.

All shared web hosting plans have an anytime moneyback guarantee and additional features such as:
Free website builder
Phone, chat and email support
Website staging
One-click software setup
Choice of data center location
More
Dedicated Hosting Plans
A2 Hosting also offers several dedicated hosting options. Users can purchase dedicated hosting plans with or without root access, and they can choose plans that are either managed or unmanaged. It all depends on the needs of the clients. Here is some information about available dedicated hosting options.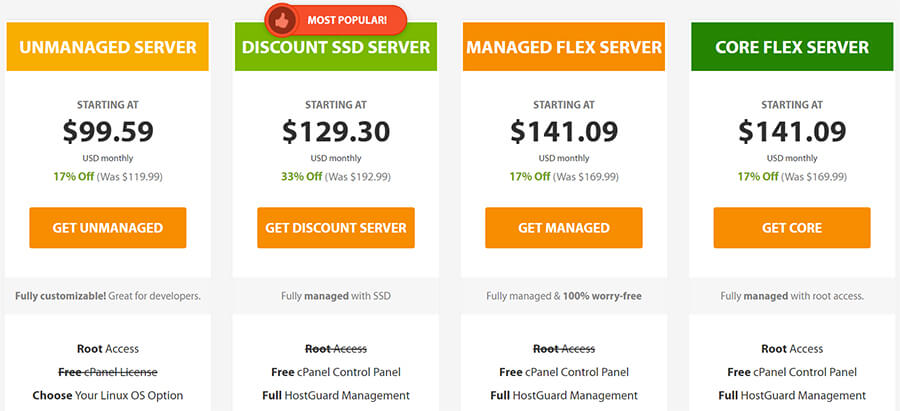 The Unmanaged Server plan is $99.99 a month and has come down from its original price of $119.99. The main features of this plan are as follows:
Root access
From 2x500 GB Storage
From 8 GB RAM
From 10 TB Transfer
From 2 Cores
Optional cPanel license and SSL
Pick your Linux OS option

The Discount SSD Server plan is $129.30 a month. Its usual price is $192.99. The main features of this plan are:
Free cPanel control panel
Free SSL
From 2x128 GB SSD
From 8 GB RAM
From 10 TB Transfer
From 2 Cores
Full HostGuard management

The Managed Flex Server plan is $141.09. Its regular price is $169.99. The details of this plan are as follows:
Free cPanel control panel
Free SSL
From 2x500 GB SSD
From 8 GB RAM
From 10 TB Transfer
From 2 Cores
Full HostGuard management

The Core Flex Server is the same price as the Managed Flex Server at this time as far as pricing goes. Its offerings are identical to the Managed Flex Server, except it offers root access. Servers are development-friendly and offer an uptime of 99.9 percent.
Reseller Hosting
A2 Hosting has an assortment of reseller hosting plans for people who like to make money by reselling sites, services or products. Interested persons can get one of four plans: Bronze, Silver, Gold or Platinum.

The Bronze plan has a monthly price of $9.80 and is normally $19.99. Features in this plan include:
WHM Control Panel
400 GB transfer
30 GB of storage

The Silver plan costs $13.72 a month and has a regular price of $27.99. Features of this plan are:
WHM control panel
600 GB transfer
Free WHMCS
75 GB of storage

The Gold plan has a monthly price of $18.13 with a regular price of $36.99. Its features are as follows:
WHM control panel
1,000 GB transfer
Free WHMCS
150 GB of storage

The Platinum plan has a price of $30.38 a month. The regular price is $61.99. Features include:
WHM control panel
2,000 GB transfer
Free WHMCS
200 GB of storage

All of these plans have a 20X faster Turbo option, a free eNom reseller account and an anytime moneyback guarantee.
VPS Hosting Plans
VPS hosting is a nice little in-between choice. It's for people who need more than shared hosting has to offer but not as much as a dedicated server. A2 Hosting offers three options for VPS hosting: Unmanaged VPS, Managed VPS and Core VPS.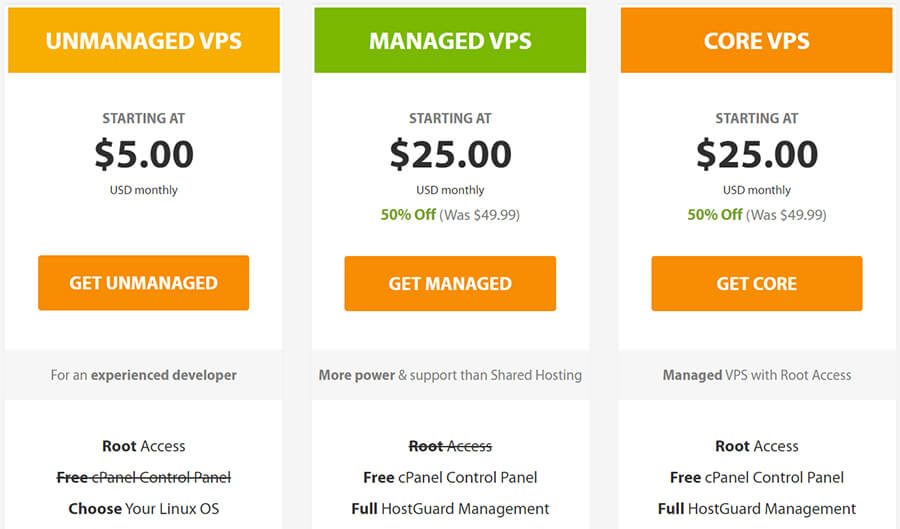 The Unamanaged VPS options start at $5 a month. They come with root access and the customer's choices of Linux OS options.

The Managed VPS options start at $25 a month from a regular price of $49.99 a month. These include Free cPanel control panel and full HostGuard management.

The Core VPS options start at $25 a month. They also have a regular price of $49.99. These plans include root access, free cPanel control panel and full HostGuard management.
WordPress Hosting Plans
WordPress has easily become one of the most popular platforms on the market today. A2 Hosting has a vast number of options for users who would like to integrate their sites with WordPress. Currently, there are three offerings for consumers who want WordPress-friendly services. Lite, Swift and Turbo are the plan options.

The Lite plan starts at $2.96 a month and has a regular price of $7.99. The plan includes a heavy load of features that are too plentiful to list at once. Some of the primary features are one website, five databases, unlimited transfer, unlimited RAD-10 storage and free SSD speed boost.

The Swift plan is $3.70 a month and has a regular price of $9.99. It offers everything that the lite plan offers in addition to unlimited websites and databases.

The Turbo plan costs $7.03 a month and has a regular price of $18.99. It offers everything that the Swift plan offers, but it also has the 20X Turbo feature.
Web Hosting Solutions
A2 Hosting is dedicated to making sure that every client has what it needs to succeed. Therefore, it offers an extensive suite of add-ons and ala carte elements that can increase productivity. Users can add options such as:
Analytics
Classified ads
Chat
CMS
CRM
Database
Dating
Blog
Podcasts
Polls and Surveys
Much More
10 Reasons to Choose A2 Hosting as a Provider
Blazing Fast Speeds
Speed is important to every website owner, whether they're a private party or a full-blown business. A2 Hosting boasts that it offers speeds of up to 20 times that of other companies. That makes them a highly desirable web hosting provider.
Free Site Migration
Not all web hosting companies offer free site migration, but this one does. That puts it above many of the other companies in the industry in terms of generous offerings.
Anytime Money-Back Guarantee
Trust is something that puts one web hosting company above another, according to a prospective customer. A2 Hosting boosts itself to a super-trustworthy status by offering an "anytime money-back guarantee." Their money-back guarantee goes above and beyond any other such guarantees in the industry. Most web hosting providers do offer some sort of guarantee, but A2 Hosting is the only one that offers people their money back at any time during the course of their business relationship. They are that confident in their services that they can offer a guarantee like that. This is a great reason for a prospect to choose them as his or her provider.
Dedicated 24/7 Customer Service
Customer service is one of the most crucial aspects of any business. To be a successful business, one must provide high-class customer service. Aside from that, the company should be accessible at all times. A2 Hosting offers both. The staff members on the customer service team go above and beyond their call of duty. They are also available 24 hours a day and seven days a week all year long. Additionally, they offer three different methods of communication, unlike some other providers. Customers can contact the customer service team by telephone, chat or email at any time. The comfort of having an always-available customer service team is enough to choose this company over many others.
Amazingly Low Prices
The pricing that A2 Hosting offers is lower than a lot of the other web hosting plans. Clients can get web hosting for less than $10 a month in most situations. Each plan comes with tools that are designed to boost productivity and profits. Therefore, this provider is on the top of the list for people who are looking for budget service that still has high quality.
High Reliability and Uptime
A2 Hosting is a reliable site that has high uptime numbers. Their uptime is more than 99 percent, which makes it an industry leader.
Strong Reputation With Consumers
Another thing that puts this company above other hosting companies is how much the customers love it. A2 Hosting is constantly getting positive reviews for its myriad of benefits and features. Prospective clients can have 100 percent confidence in their choice to jump on board with this provider.
Awards and Affiliations
A2 Hosting has many awards and a lot of affiliations that should help to ease the minds of prospective clients. They were awarded for being the top web hosting provider in 2019, and they are affiliated with the Better Business Bureau as well as many other reputable organizations.
Years of Experience
A2 Hosting has been around since the early 2000s, which means it has more than 15 years of experience. Every year under a web hosting company's belt is another year that it matures and gets better like a fine wine. The experts on this team know what works and what doesn't, and they can help clients expand and grow with their vast knowledge and wisdom.
Guru Support
Clients can get support on their websites from some of the industry's gurus. That's something that not many other hosting companies provide.
Reasons You Might Think Twice
You know a few of the reasons that A2 Hosting is a good choice. Now, look at some of the reasons it might not be.
No Free Domain Registration
We were very surprised that this company didn't offer free domain registrations. That's one of the goodies that a lot of prospects look for. It may be a dealbreaker for some people.
High Renewal Rates
Customers can get some great deals, but they will have to pay a lot of money come renewal time. That may be off-putting for some clients who are on a strict budget.
Must Buy Several Years for Ad Price
Some of the advertised pricing for hosting is low, but clients have to prepay for several years to get that low price. That may be a turn-off to those who are trying to make the most of their budgets.
The Conclusion
Although we saw a few things that weren't that favorable, we still think that this company is a gem. It has a lot of features and services and does not lack in quality at all. We think it's a good pick, and it's worth looking into and trying out for a least a short while.