Services and Pricing
Bluehost has a heap of services that can be beneficial to a variety of users. The services on this list are not exhaustive. There's more for clients to enjoy, but this will give an idea of the high level of products that all Bluehost customers can access.
Domain Names
All great sites begin with a great domain name. Bluehost offers domain names with variou extensions such as .com, .net .info, .blog and many more. The prices range from as little as $4.99 for a year to $16.99 and up. New clients may be able to get their domain names for free with the purchase of a web hosting plan. They will have to pay the regular annual price after the promotional period ends.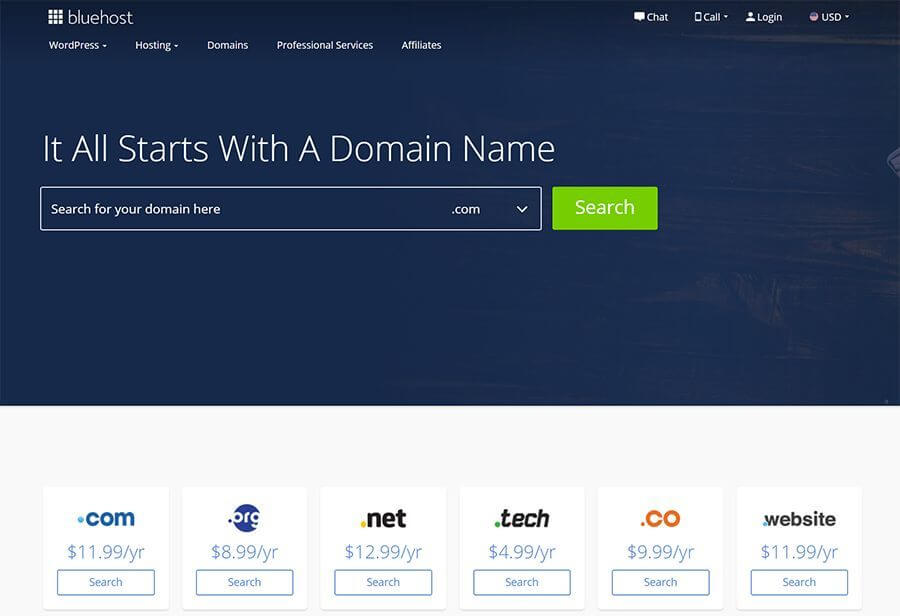 Shared Hosting
Shared hosting plans are the most popular types of plans that exist. They are excellent for individuals or businesses who do not need to have their websites operate on a dedicated server. New customers are eligible for huge discounts on their web hosting plans. Four options are available: Basic, Plus, Choice Plus and Pro.
The Basic Plan is usually $7.95 a month. However, Bluehost is currently offering it at the promotional price of $2.75 for a limited time. The features of this plan include one website, 50 GB SSD Storage, unmetered bandwidth and a free SSL Certificate. The plan also provides standard performance, one domain, five parked domains and 25 subdomains. This plan is excellent for an individual or a sole proprietor.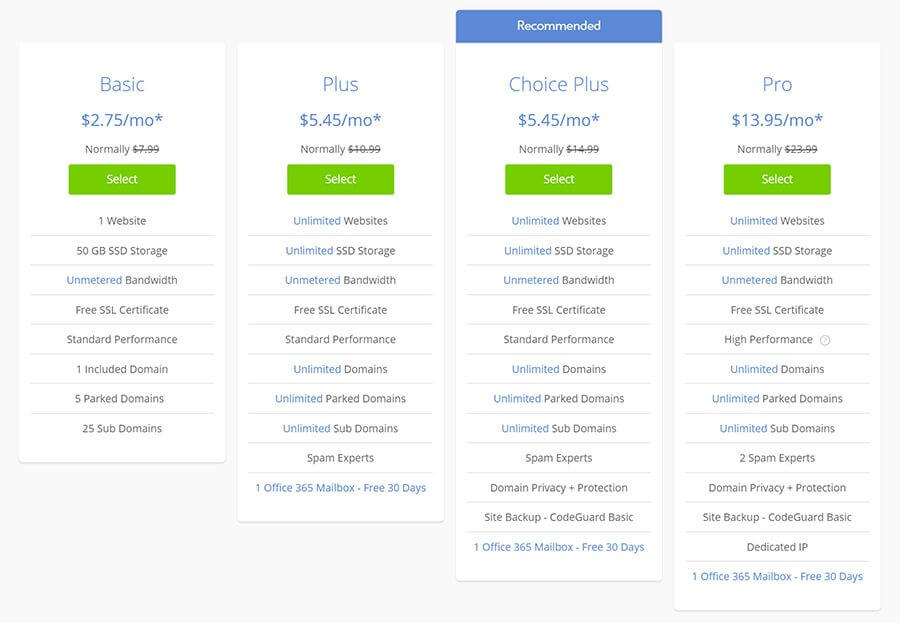 The next plan is the Plus Plan. This plan starts at $5.45 a month during the promotion and goes up to $10.99 once it ends. It includes everything that the basic plan offers but adds things such as unlimited storage, bandwidth and domains. Customers also get to enjoy spam experts and 30 free days of an Office 365 mailbox.
The Choice Plus Plan is perhaps for people who would like a little more privacy with their web hosting. This plan has a promotional price of $5.45 a month, but it goes up to $14.99 when the promotional period is over. This plan offers everything that the previous two plans offer in addition to Domain Privacy & Protection as well as Site Backup and Code Guard Basic.
The Pro Plan has a promotional price of $13.95 a month. That goes up to $23.99 once the promotion is over. The Pro Plan takes things a little bit further and adds two spam experts and a dedicated IP.
All shared hosting plans include resource protection, marketing credits, SSL certificates, domains and high scalability.
Dedicated Hosting
Sometimes shared hosting isn't quite enough. Big businesses or enterprises might need something a little bit more. That's where a dedicated hosting plan could come in. There are three dedicated hosting plans: Standard, Enhanced and Premium.
The Standard Plan offers 4 cores @ 2.3 GHz, 500GB (Mirrored) Storage, 4 GB of RAM, 5 TB Bandwidth and three website addresses. The price for this plan is $79.99 during the promotion and $119.99 thereafter.
The Enhanced Plan offers 4 cores @ 2.5 GHz, 1TB(Mirrored) Storage, 8 GB of RAM, 10 TB Bandwidth and four website addresses. The price for that plan is $99.99 a month during the promotion. That price goes up to $159.99 after the promotion ends.
The Premium Plan offers 4 cores @ 3.3 GHz, 1 TB (Mirrored) Storage, 16 GB of RAM, 15 TB Bandwidth and five website addresses. This one has a promotional price of $119.99 a month that goes up to $209.99 once the promotion is over.
VPS Hosting
People who need a virtual private server can choose from three plans that Bluehost offers for it. The least expensive plan is the Standard Plan. It's $18.99 right now and $29.99 after the promotion ends. The plan offers two cores, 30 GB SSD storage, 2 GB of RAM, 1 TB Bandwidth and one IP address.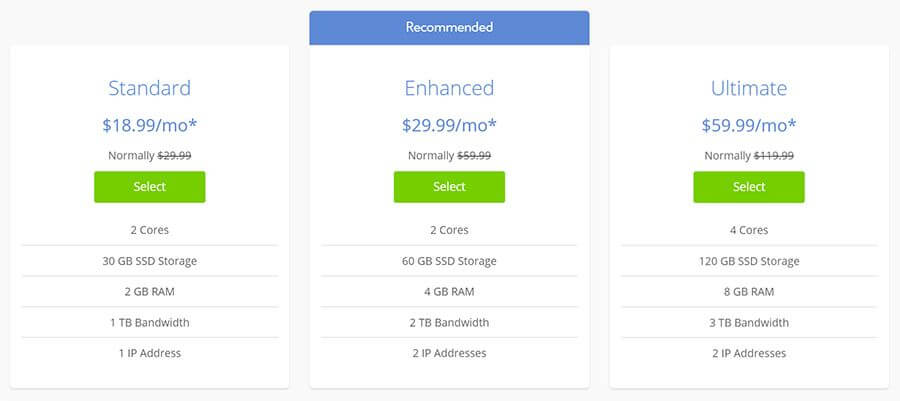 The Enhanced Plan doubles everything except the cores. The cost for the Enhanced Plan is $29.99 a month, with a cost of $59.99 a month once the promotion ends.
The last but not least plan is the Ultimate Plan. The Ultimate Plans offers four cores, 120 GB SSD Storage, 8 GB of RAM, 3 TB Bandwidth and two IP addresses.
WordPress Hosting
Bluehost also offers WordPress hosting. The WordPress hosting comes with free WordPress installation, automatic WordPress updates, Microsoft 365 and a free domain name for one year. The company offers three plans: Basic, Plus and Choice Plus.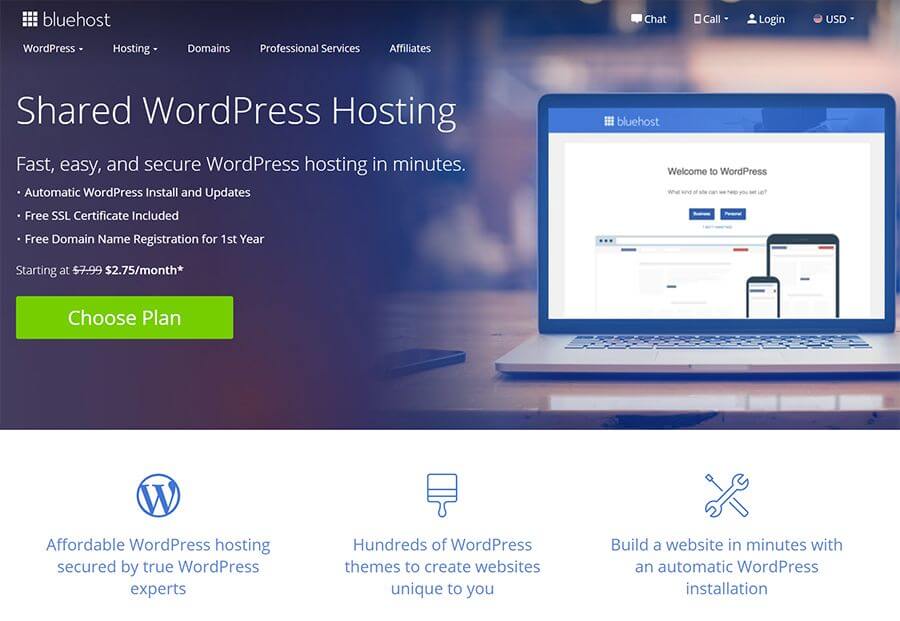 The Basic Plan offers one website, free SSL certificate, 50 GB of SSD storage, free domain for a year, 25 parked domains, 25 subdomains and a $200 marketing credit. The price is $2.75 a month, and it will rise to $7.95 after the promotion. The Plus Plan is $5.45 a month, and it goes up to $10.99 afterward. It offers unlimited storage and domains as well as Microsoft 365 for 30 days. The Enhanced Plan is $5.45 at first and rises to $14.99 after the promotion. It adds the element of CodeGuard Basic Backup to its suite of features.
WordPress.org officially recommend three hosting companies and one of them is Bluehost.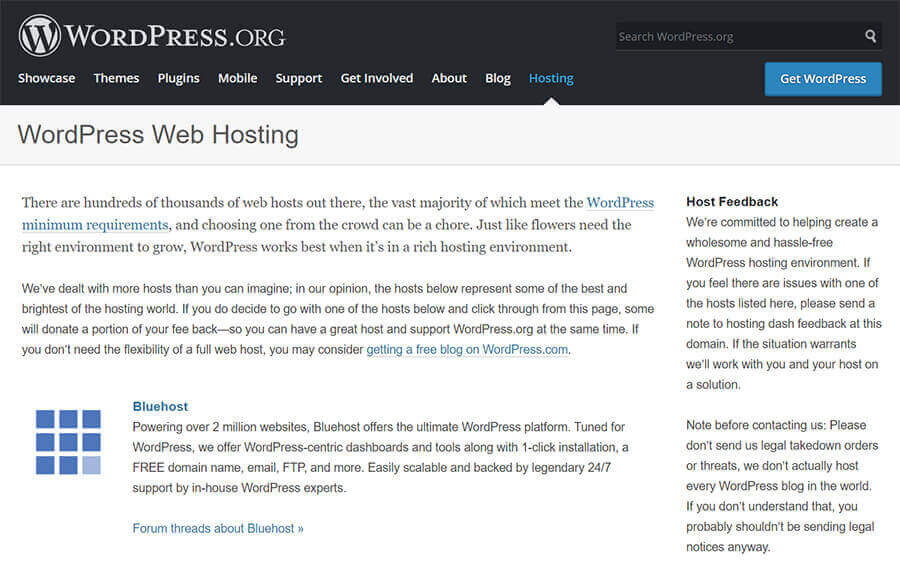 WordPress Pro and Ecommerce
Bluehost also offers three WordPress Pro plans and three eCommerce plans. The WordPress pro plans vary in price from $19.95 to $49.99 during the promotion. The eCommerce plans range from $6.95 to $12.95 a month and have features such as online stores, themes, tools, backup and free set up.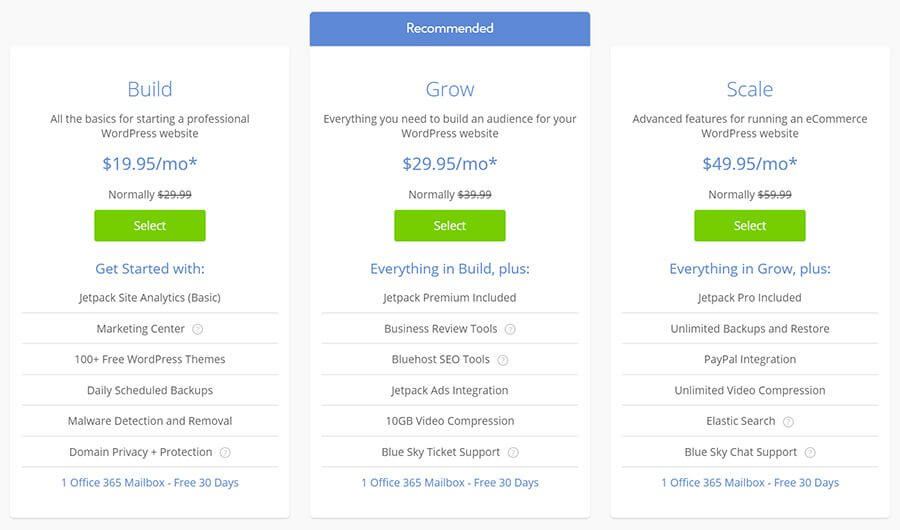 What Puts Bluehost Above the Rest?
You already know that we're fond of the Bluehost company, but you're probably not sure why. Here are some of the reasons we believe that Bluehost goes above and beyond all other web hosting companies.
Long Tenure
Tenure is one of those things that enable people to trust a web hosting provider more. Prospective clients can feel 100 percent at ease about Bluehost based on its tenure. The company has more than 15 years of experience, and it continues to grow in technology and customer service. Bluehost is not a new company that's uncertain about its future. It's a stable provider that millions of people can vouch for.
Free Domain Name
Customers can receive a free domain name if they order a hosting package from Bluehost. The free domain name is something to cherish because not every hosting company offers it. Customers can save hundreds of dollars for the first year just by taking advantage of the offer. There are many more features and promotions, but we felt that the free domain name was something that meant a lot to consumers. Business owners can definitely get enjoyment from knowing that they can receive such services.
Money-Back Guarantee
Everyone needs to feel that they can try a product and not be held accountable if they truly don't like it. Bluehost is so confident in its services and features that it gives customers a 30-day money-back guarantee. If anyone is dissatisfied with the services at that time, they may receive the money-back that they spent. The company stands by its commitment to customer satisfaction, and that's one reason that their business keep spreading worldwide. Consumers love to know that they can count on their provider to make them happy at all costs.
Promotional Pricing
One thing new users will enjoy is the promotional pricing they can review when it's time to jump on board. Bluehost understands that people have a lot of choices, and they want to show them their appreciation by giving them discounts for sign-ups. Therefore, they provide huge discounts to their clients for their first year of web hosting. Renewals are full price after the renewal period.
Around-The-Clock Customer Service
Bluehost offers 24/7 support for its customers through various methods. Web hosting customers can call using the toll-free number to talk about billing issues, technical problems, add-ons and more. A highly skilled expert will be there to answer the questions and help guide that person in resolving his or her issue. Bluehost believes that help should be available at all times. It stands by its beliefs by having people ready to take calls around the clock.
Easy Installation Tools
New site users need as much help as they can get to set their websites up. Fortunately, Bluehost offers a heap of installation tools for the new person who signs up. These tools allow users to operate quickly and efficiently.
User-Friendly Dashboard
Customers have a very user-friendly environment to work with. They can easily navigate to perform a variety of tasks on their websites. It's built to accommodate people of all levels of tech-savviness.
Affiliate Programs
Bluehost believes in giving back to the people who give to them. Therefore, they offer an affiliate program to clients who want to earn extra money. Signing up for the affiliate program takes a few minutes at the most. Affiliates can refer friends, family members, business associates and clients to the Bluehost site for service. That person will receive a flat bonus of $65 if someone joins Bluehost because of a referral. The company has paid its affiliates more than 5 million dollars already and will be delighted to add more people to that number.
Site Growth Services
Bluehost also excels in the are of site growth. It offers a large suite of SEO services for its clients. SEO is an acronym for search engine optimization. The services help clients to rise in the ranks on the Google search engine so that their pages can be found, and their profits and customers can grow. Two top SEO services that clients can find are pay-per-click and keyword optimization. Pay-per-click services draw in potential clients by showing them ads based on certain terms. Keyword optimization is a process that includes creating a list of terms that are likely to generate business. Professional consultations and site migrations are available, as well.
Why You Might Think Twice
You've just read the long list of pros. Now it's time for the things that might make you think twice about signing up. You can compare the pros and cons and make an educated decision when you're finished.
Expensive Renewals
The promotions that you can get on the web hosting through this company are amazing. However, you may not be too thrilled when it comes time to renew. The price may be two to three times what you have to pay for them initially. On the other hand, many other hosting companies have the same issue.
No Windows Support
Unfortunately, Bluehost is Linux-only. Therefore, it doesn't assist people who need to run off of Windows-based servers. This is a major drawback for people who need a Windows server for correct operations.
No Free Site Migration
New customers may be put off by the fact that they have to pay to migrate their site. Bluehost surprisingly doesn't offer free site migration. However, some of the other features they have to provide enough of a discount to compensate for this small expense.
The Conclusion
While it's true that Bluehost has a few undesirable aspects, it's also true that many other web hosting companies do, as well. The positive attributes outweigh the negative ones tenfold. Therefore, Bluehost has our stamp of approval. We recommend it to business owners and individuals of all classes and walks of life. We think that it will be a great asset to anyone who uses it. Businesses will most likely see profits.

Now you're more familiar with Bluehost and what it has to offer. You should already have it in your mind to sign up for services or call the company for a consultation. You might find that it offers even more than you thought it did.