Services and Features
Let's first look at the assortment of features that iPage offers its customers. The company tries very hard to cater to the needs of all classes of clients. Here is what prospective patrons can look forward to receiving from this provider.
Domain Names
A domain name is a crucial element for any website. Its catchiness can either make or break a business. IPage is happy to offer domain names to its clients. The site has an easy-to-use search tool that prospective clients can use to see if their domain names are taken. Domain names come for free for the first year with some of the web hosting services. Otherwise, the prices vary from as low as $2.99 to as much as $59.99 and beyond, depending on the extension. IPage offers more than 300 various extensions for its domain names. Clients can get extensions such as .blog, .club, .info, .accountant and many more as well as the usual .com and so forth. Automatic renewal is available for people who want to avoid the hassle of having to set reminders. They can set up a billing method that iPage can automatically bill when the time is right.


IPage offers some extra services that customers can add to their domains to ensure that they are comfortable. The Privacy Protection service keeps the registrant's personal information private so that people cannot get it.

The SiteLock service is malware and spam-scanning software that helps clients maintain a safe and clean environment at all times. It's a state-of-the-art security suite that many customers are pleased with. Website Backup is a tool that allows site owners to keep backups of their websites. This tool gives such people peace of mind about losing information. IPage offers it for an additional fee with domain registration. The SiteLock feature has a charge, as well.
Shared Web Hosting
IPage has a unique offer for its shared web hosting. It offers a one-size-fits-all plan that comes with everything the user needs. With a one-size-fits-all plan, users won't be confused about bandwidth, disk space and various features. It's all the same. The one-size-fits-all plan comes with:
A free domain name (1 yr)
A Free SSL Certificate
Scalable bandwidth
Unlimited disk space
Unlimited MySQL databases
Unlimited domain names
Cusotmizable email address
Web building and designing tools
Free online store
Enhanced security
More
There are almost too many features that come with the service to mention. It's definitely fully loaded with a lot of the tools that users will need. What's best about it is that the tools work well for people with all skill and experience levels. Users can purchase the plan for one year for $2.99 a month, two years for $2.49 a month or three years for $1.99 a month.

VPS Hosting
Three VPS Hosting plans are available. They are Basic, Business and Optimum. The Basic Plan offers 1 Core CPU, 1GB of RAM, 40GB disk space, 1TB of bandwidth, 1 IP address, free 1yr. domain registration, CentOS 6.4, and cPanel. The price is currently $19.99 a month. The other plans are $47.99 and $79.99 a month respectively. They offer more disk spae, RAM and bandwidth.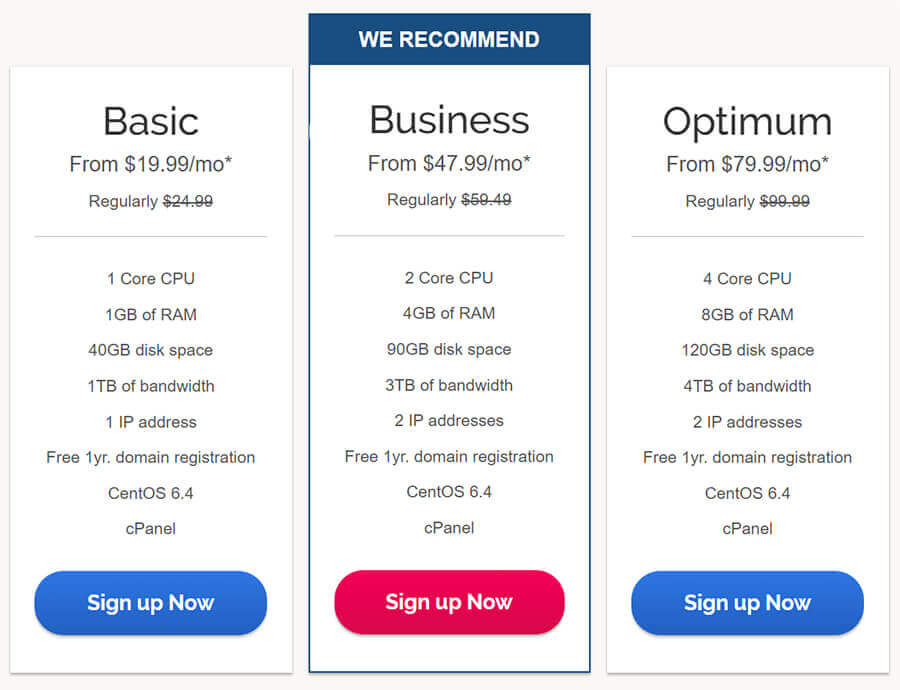 Dedicated Hosting
IPage offers dedicated hosting plans to those who need dedicated services. All dedicated hosting plans include a free domain name registration for the first year. Clients also get preinstalled scripts and support from a team of experts who are there to assist at all times. Consumers can choose from three plans: Startup, Professional or Enterprise.

The Startup Plan got its name because of its features list. It's perfect for businesses and individuals who are just starting up. The plan offers:
4 GB of RAM
2 Core CPU
500 GB of Disk Space
3 IP Addresses
cPanel
5 TB of Bandwidth
CentOS 6.4
The cost of the Startup Plan is $119.99 a month, which is a discount from its regular price of $149.99.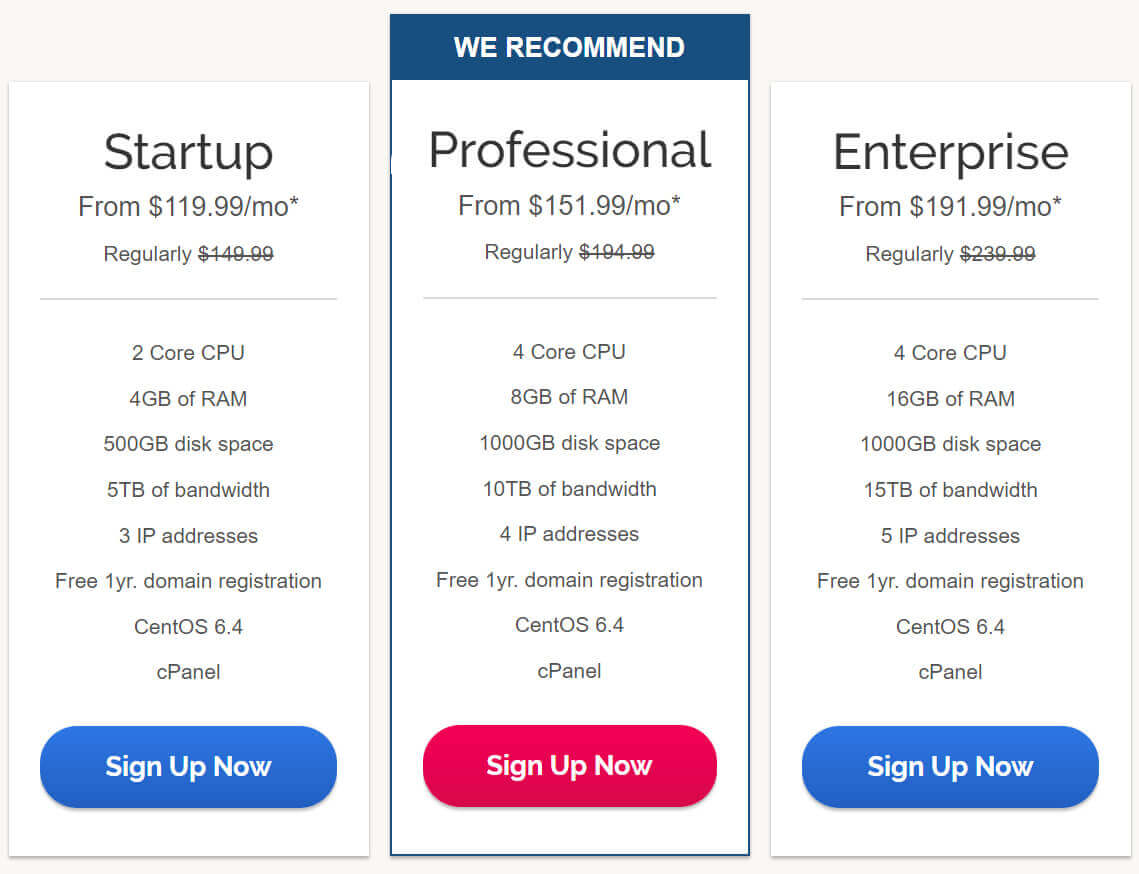 The next available plan is the Professional Plan. IPage recommends this plan to all of its new prospects. The plan offers:
8 GB of RAM
4 Core CPU
1,000 GB of Disk Space
4 IP Addresses
cPanel
10 TB of Bandwidth
CentOS 6.4
The price of the Professional Plan is $151.99 a month. Its normal price is $194.99 a month.

Consumers who aren't happy with the Professional Plan can always opt to try the Enterprise Plan. This plan is great for large businesses. It offers:
16 GB of RAM
4 Core CPU
1,000 GB of Disk Space
5 IP Addresses
cPanel
15 TB of Bandwidth
CentOS 6.4
In addition to all those amazing features, users also get complete customization, high security and cloud-based flexibility. It's important to note, however, that the plans will renew at the regular rate. The promotional period is only for the first term of service.
WordPress Hosting
Some people prefer to have WordPress hosting. IPage has a few offerings for such people. The WordPress hosting plans offer free domain registration for one year, just like the other plans do. They also have advanced features. Additionally, WordPress hosted sites are search-engine friendly, which means that prospective clients will easily find the businesses associated with such sites. IPage offers two plans for its WordPress hosting: The WP Starter and the WP Essential Plans.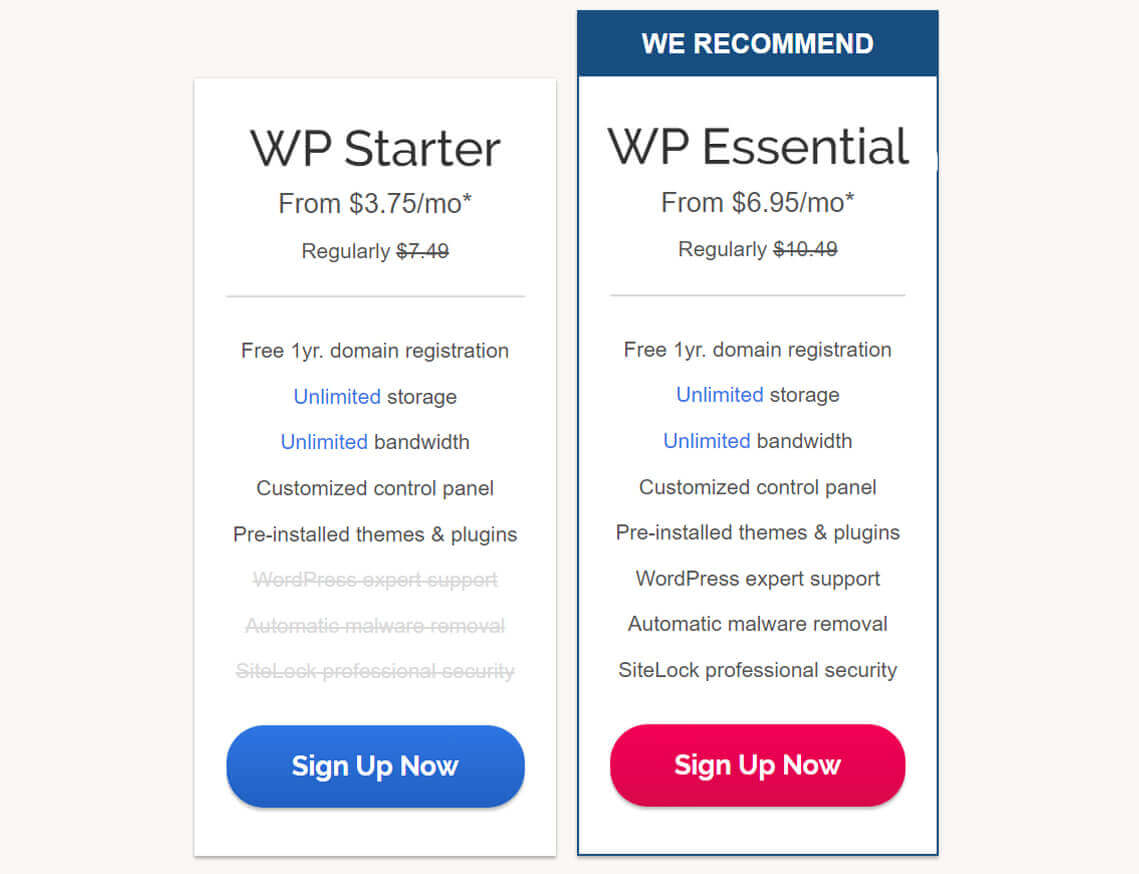 The WP Starter plan is great for someone who is just starting. It has a meager opening price of $3.75 a month. That price goes up to $7.49 after the promotional period. The WP Starter plan has a gambit of features including unlimited storage, unlimited bandwidth, preinstalled themes and plugins and a customized control panel. Ease of use is the main positive with this plan. Beginners can set up their pages and flourish with them.

The next plan is the WP Essential plan. That plan offers everything that the Starter plan offers, but it adds a few more goodies to the pot. Users will get additional features such as WordPress expert support, Automatic Malware Removal and SiteLock Professional Security. It sounds like the Essential plan is better for people who need a bit more security and want to have that safe feeling.
10 Reasons to Choose iPage as Your Provider
As you can see, iPage has a lot of service and feature offerings. We found many reasons for you to sign up for service with them. These are 10 reasons among a long list of great ones.
Outstanding Prices and Promotions
IPage is currently offering huge discounts and promotions to its newest clients. A person who chooses a three-year web hosting plan can get service for only $1.99 a month. That's a hard-to-beat figure that not a lot of web hosting companies offer at this time. Therefore, iPage is an excellent choice for an individual or business owner who is looking for a budget.
24-Hour Phone and Chat Support
Everyone loves to know that they have support when they need it. This provider is above-average on support because it offers it 24 hours a day and seven days a week. Not only that, but iPage also offers phone support as well as chat support. Some companies only offer chat and email support. IPage has dedicated staff members who will get on the phone with clients and walk them through any issues that they may be having. They are delighted to help at any time of the day or night.
Money-Back Guarantee
A money-back guarantee says two things about a provider. First, it says that the provider is so confident in its features and services that it expects its clients to stay on board for a long time. Secondly, it says that it's a trustworthy provider that is willing to do whatever is necessary to make its customers happy. IPage is confident enough in its assortment of features that it stands behind a 30-day money-back guarantee. It will refund the hosting fees to customers that are unhappy with their services. They will ask no questions. That's one reason that users can have faith in iPage for their hosting.
Free Domain Name
Believe it or not, not every hosting provider offers a free domain name. Many of them ask their customers to pay for their domain name registration as well as the other services they get. The iPage provider offers a lovely benefit of free domain name registration for the first year. After the first year, the client must pay the regular price.
Tutorials and Online Help
Online tutorials and instructions are available to help website owners navigate their creations. Additionally, there's a surplus of online help and frequently asked questions. Clients can try to resolve their issues online before they call for customer service.
Stats and Traffic Monitoring
Website owners like to know how they're doing. Businesses need to know who's engaging with their site and which of their tactics are working best. IPage offers stats and monitoring so that their business clients can feel comfortable about their success.
Free Online Store
Business clients can benefit from having a free store where they can sell their merchandise and other products. The iPage provider offers a free store to its clients so that they can conduct business in a stress-free manner.
PayPal Integration
PayPal is one of the most popular payment processors on the market nowadays. Clients with online stores use the site to collect money from their customers. IPage understands how important PayPal is, so they integrated it into their fleet of services. Clients can have their customers purchase products and services with ease with such integration.
Unlimited Disk Space
The iPage providers offer unlimited disk space, which accommodates website owners of various calibers. They don't ever have to worry about running out of space, whether they are a single page owner or a large company. This is a huge plus for a prospective client.
Outstanding Reputation
Lastly, iPage has an outstanding reputation. Former and current clients have nothing but positive things to say about its services as well as its high level of customer service. Interested parties can trust this provider because of the words of people who have already used them. Many people are pleased with their experiences and would thereby recommend them to other people.
Reasons You Might Think Twice
IPage has many benefits and features that make signing up for their services a no-brainer. However, we found a few things that some people may not appreciate. Here are the cons of signing up with iPage.
No Windows Hosting
Unfortunately, iPage does not offer Windows hosting, at that is going to be offputting to many people who enjoy the Windows platform. What they offer is primarily Linux-based. Therefore, it might not be a good fit for everyone.
Doesn't Offer Free Site Migration
Free site migration is one of those goodies that a lot of web hosting sites offer to its new clients. Unfortunately, iPage does not offer free site migration to its patrons. That may be a dealbreaker for some people.
Fees for Extra Security
IPage has a lot of cool security features like Sitelock and such. Unfortunately, it costs the customers extra if they want to have it added to their accounts. Furthermore, many other add-ons and features cost extra to get. The extra expenses kind of take away from the budget aspect and make iPage a little less desirable.
The Conclusion
We review a lot of web hosting companies, and we haven't found a perfect one yet. The iPage company has some amazing offerings, and we think their positives far outweigh their negative aspects. We recommend their services for users of all sizes and classes. If we had to give it a rating, we'd give it eight points out of 10. It's definitely an above-average option that can bring more good than harm to a client.

You now have all the information you need to make an informed decision about iPage and its assortment of services. You can contact an agent at this company at any time to schedule a consultation about what they have to offer. A representative can help you find the perfect plan and price for your needs.