Services and Pricing
SiteGround offers solutions for everyone from the individual web page owner to the enterprise company. Visitors can stop by for domain names, international hosting, reseller hosting, cloud hosting and more. Here is some information on the plans they offer and the pricing options.
Domain Names
Domain name registration starts at as little as $15.95 and goes up from there. The company offers an easy search tool that visitors can use to see if the domain name they desire is taken. The site offers popular domain extensions such as .com, .net, .info, .org and the like. Customers may also purchase domain names with country-based extensions such as .ca, .eu, .co.uk and so on. Additionally, SiteGround offers a variety of "special" domain extensions such as .blog,.shop, .online and .guru. It's very easy to select a domain name and get set up with a hosting plan that works.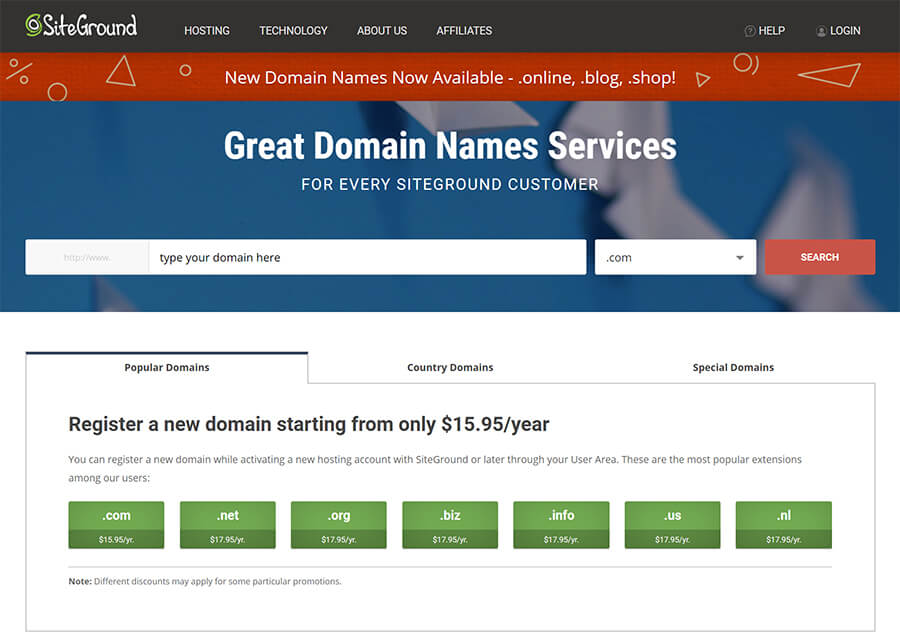 Web Hosting Plans
SiteGround offers three main web hosting plans: StartUp, GrowBig and GoGeek. The StartUp plan is perfect for people who are on a budget because the company is currently offering it at a special price of $3.95 per month. The regular price is $11.95 per month. Users can host one website with this plan, and they can receive 10 GB of space, 10,000 visits and unmetered data transfers. The plan also offers free email accounts, site-friendly tools, free CMS install, My SQL DB and more. This is not an exhaustive list of all the features and benefits of the plan. It's just meant to familiarize you with its basic offerings.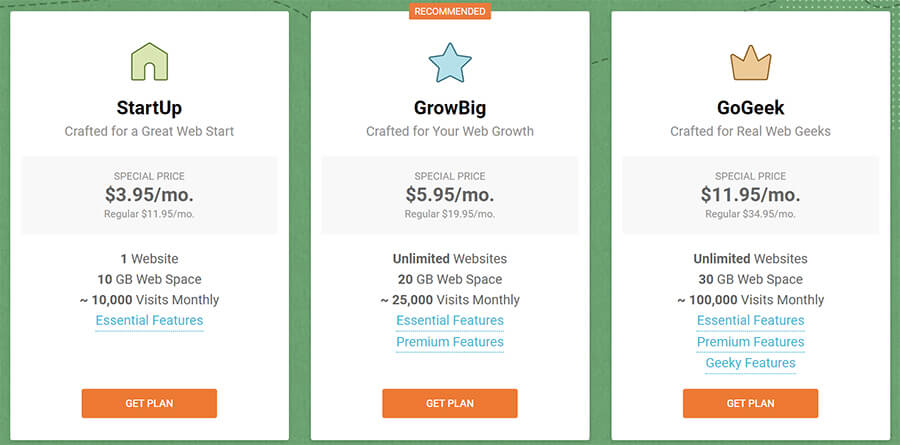 The GrowBig plan has a special price of $5.95 a month at this time. Its regular price is $19.95. It offers the same things that the StartUp plan in addition to advanced on-demand backup, free site transfer, collaborator adding and staging. This plan comes with 20 GB of space, 25,000 visits and the right to host unlimited websites.
The GoGeek plan is currently running for $11.95 a month. Users can enjoy having 30 GB of space and 100,000 visits with no problem. It also offers features that the other plans don't offer such as advanced priority support, preinstalled Git and White-label hosting & client management. This plan is better suited for a large company.
Reseller Hosting Plans
SiteGround also offers reseller hosting plans to people who earn money off of selling sites. Their reseller plan offers 10 GB of space, 10,000 visits and features such as SSD storage, free email accounts, unmetered data transfers and more. To pay for services, the customers must buy reseller credits. The good news is that the reseller credits never expire, so the individual can use them at any time.
SiteGround Wordpress Hosting Plans
SiteGround is one of the best hosting for Wordpress. WordPress officially recommend three hosting companies and SiteGround is one of them.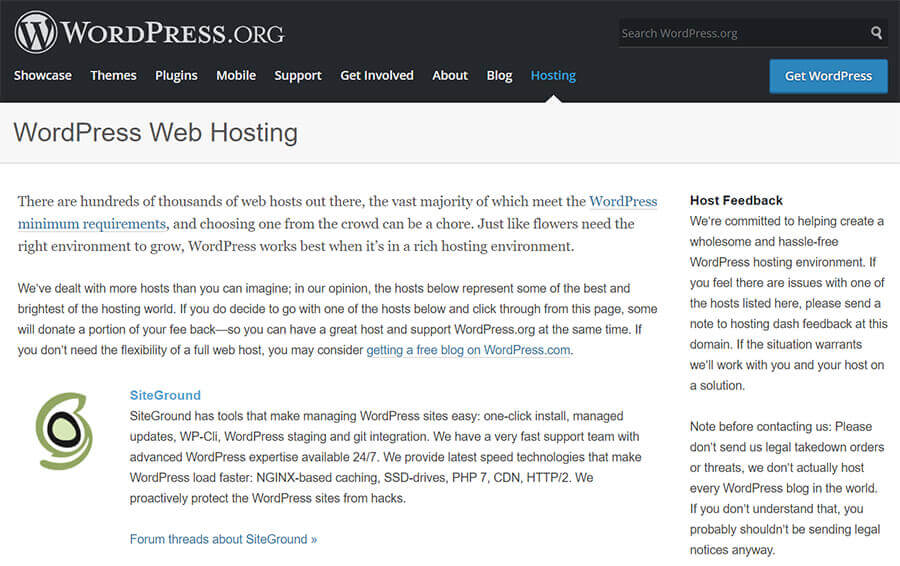 Cloud Hosting
Some entities prefer the flexibility of cloud hosting. It's cost-efficient and resolves a lot of the bandwidth problems that some businesses have. SiteGround offers four cloud hosting plans with varied features. The Entry plan has the lowest price of $80 per month. The plan includes 2 CPU Cores, 4GB of memory, 40GB of SSD space and 5TB of data transfer. The Business plan is a little more expensive at $120 a month. It offers 3 CPU Cores, 6GB of memory, 60GB of SSD space and 5TB of data transfer. The next step up is the Business Plusplan for $160 a month. It offers 4 CPU Cores, 8GB of memory, 80GB of SSD space and 5TB of data transfer. Finally, the granddaddy of them all is the Super Power plan. It costs $240 a month and offers 8 CPU Cores, 10GB of memory, 120GB of SSD space and 5TB of data transfer. A specialist can talk to a potential client about more of the features that these plans offer to the masses.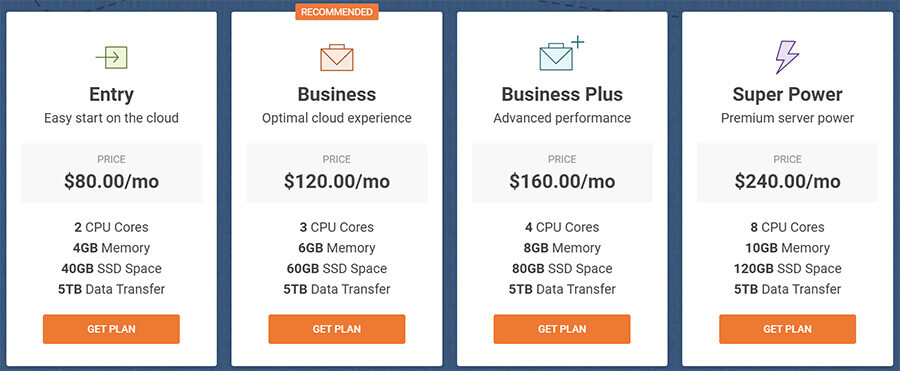 Dedicated Hosting
Some clients want servers all to themselves. Such individuals are in luck because SiteGround offers several dedicated server plans. Entry Server costs $269 a month and includes 4 CPU Cores and 16GB DDR3 RAM. The Power Server plan costs $349 a month and offers 32GB DDR3 RAM. The Super Power Server has 2 x 6 CPU cores and 64GB DDR3 RAM. More information on these plans is available through contact with a representative.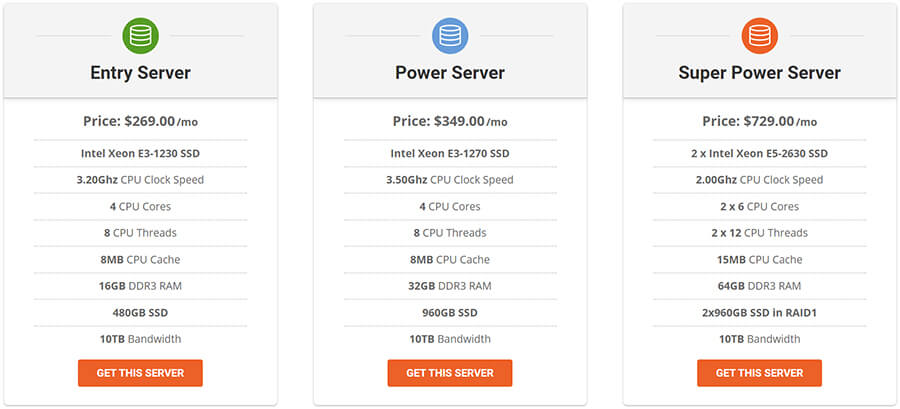 Enterprise Hosting
The team at SiteGround can build a client a gorgeous and effective website for personal pleasure or business. Website architects listen closely to what their clients need and build bespoke pages to reflect that. The pricing can vary from project to project. Therefore, the site does not offer a concrete pricing grid.
Student Hosting
Siteground offers website hosting to students for a special price of $1.99 a month. The pricing is for one year. There is also a Faculty Partnership plan that they can request for free.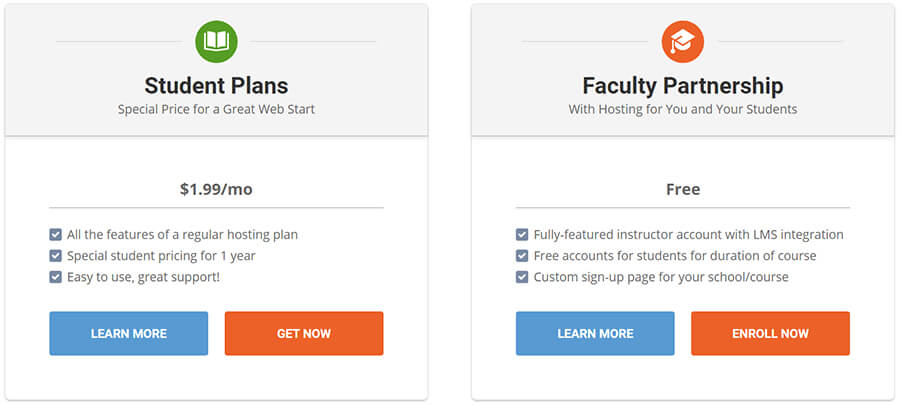 Web Hosting in Spanish
Last but not least, Siteground offers web hosting options in the Spanish language so that everyone can understand the offerings.
What Puts Siteground Above the Rest?
We looked at all aspects of the Siteground company and its benefits, and we decided that we'd recommend it to the masses. Here are 10 solid reasons that we recommend it.
Spectacular Customer Service
Customer service is one of the most important aspects of any business. It's even more important with web hosting because customers will need help with a variety of issues. SiteGround is superior to other companies because of its multiple layers of customer service. This company has a staff of people who will go far beyond their normal duties to help others. The customer service team is available 24 hours a day and seven days a week. The agents will take the time to help people with site building issues, billing questions, coding problems and the like. No task is too complex for them to help with, and no customer ever has to hear the words, "We can't." With SiteGround, that will never happen.
Glowing Reviews
SiteGround has the support of the majority of its users. That says a lot about how the company handles itself. Many of the people who have left reviews about the company have had positive things to stay about it. They mostly praised the customer service and the speed at which their websites operated using SiteGround's services.
Strong Reputation
SiteGround has a solid reputation in the web hosting world. To date, the company has more than 2 million satisfied customers. These people have a variety of services and are quite pleased with the all-around features and benefits they get from the site. It's a smart move to buy services from a company that already has millions of satisfied clients.
Consistently High Speed
Speed is a factor when choosing a web hosting plan. Your customers and visitors will want to see the content on your website as quickly as they can. They will want to conduct their actions in a timely fashion. SiteGround has glowing reviews for its amazing speed, so you can have faith in the swiftness of your site's operations.
Near-Perfect Uptime
SiteGround is up more than 99 percent of the time. That's a near-perfect number, and it's definitely a quality you want to have in a web hosting provider. This site consistently stays up between 99.7 and 100 percent at all times. Consumers need services that they can count on like this.
High Security
Security is another important factor when choosing a web hosting company. SiteGround has all the state-of-the-art technology and security features in place to ensure that customers get the best protection. You can feel safe having this company take care of your web page or pages because you'll know that they have the top-of-the-line security on it at all times.
Worldwide Services
SiteGround offers services on several continents and in many countries. Users can get web hosting plans in North America, Europe, Singapore, Africa, Russia, New Zealand and a variety of other places.
Varied Hosting Plans
The variety of hosting plans is probably one of the top reasons that this provider is best. It literally has a plan for every type of situation. An individual page owner would be just as happy as an enterprise because the services are that broad and accommodating. No other provider has been able to match the level of convenience or the high level of customer service that this provider offers.
Bonuses and Commissions
Customers can earn bonuses and commissions by getting involved in affiliate programs. SiteGround is generous in what they pay their affiliates, and they offer weekly payouts at that. A person who makes one to five sales in one month can receive $50 for each sale. A person who makes 11-20 sales per month can earn a whopping $100 per sale. Affiliates can easily earn money by copying their special link and pasting it to their social media pages so that their friends and family members can see it.
Tools and Experts
Finally, SiteGround has a huge staff full of experts who love to help the clients. These persons are well-rounded tech-savvy people who find pleasure in helping. Furthermore, the site has a heap of tools that clients can use to build and to navigate their websites. SiteBuilder is just an example of one of those tools. It helps a new website hosting customer to create something magnificent.
Why You Might Think Twice
You've read all of the positive aspects or "pros" about SiteGround. Now, let's look at a few reasons you might consider other providers. These are the "cons" of SiteGround. You can see that the cons are significantly lower than the pros.
Setup Fees
SiteGround is pretty good when it comes to surprise fees and costs. There are hardly any fees except for the "setup fee" that comes to those who want to experiment with a trial hosting plan. The extra $14.95 – $24.95 charge may put off some people who were looking for a hassle-free experience.
No Domain Name Promotion
Most web hosting companies offer promotions for new domain names. They usually offer something like a FREE domain name if the customer orders a web hosting plan. Unfortunately, SiteGround does not offer such benefits. New clients have to pay full price for their first year of domain name service and beyond. We were shocked by this since SiteGround excels in so many other areas. Perhaps, disappointed would be a better term.
Renewal Is Costly
New clients can get some amazing deals on their first year of hosting. For example, the cheapest plan is only $3.95 a month at this time, which ends up being a little less than $48 for the year. However, when renewal time comes, the customer will have to revert to the old pricing, which is $11.95 a month right now. That means that he or she will have to pay approximately $144 next time around if the price doesn't rise by then. That's a bit rough.
The Conclusion
Although SiteGround has a few cons, we still highly recommend it to individuals and businesses of all classes. We feel that it's a first-class site with plenty of tools and helpful staff members to accommodate the clients. If we had to give it an overall score of one to 10 points, we'd give it a strong eight. The only reason we give it an eight is because of the lack of domain name promotions. Otherwise, we'd have given it a total of 10 points.

You now know the ins and outs of the SiteGround web hosting company. You can now take your knowledge and use it when you contact the provider to set up your service for the first time.