Products and Services
HostGator is a one-stop-shop for everything related to website operation, maintenance and productivity. They provide clients with the tools they need for personal pages, businesses and informational sites. The following are some of the products and services they offer. The list is not exhaustive.
Domain Names and Registration
The domain name registration is the first step to creating a killer website. HostGator provides its clients with a user-friendly search tool to check if their desired domain name is available. They offer affordable domain name registration that ranges from $.95 a year to $15 or more. Domain name transfers are also available at a promotional starting price of $7.95. Web hosting customers can get one year of free domain name registration with a qualifying web hosting plan.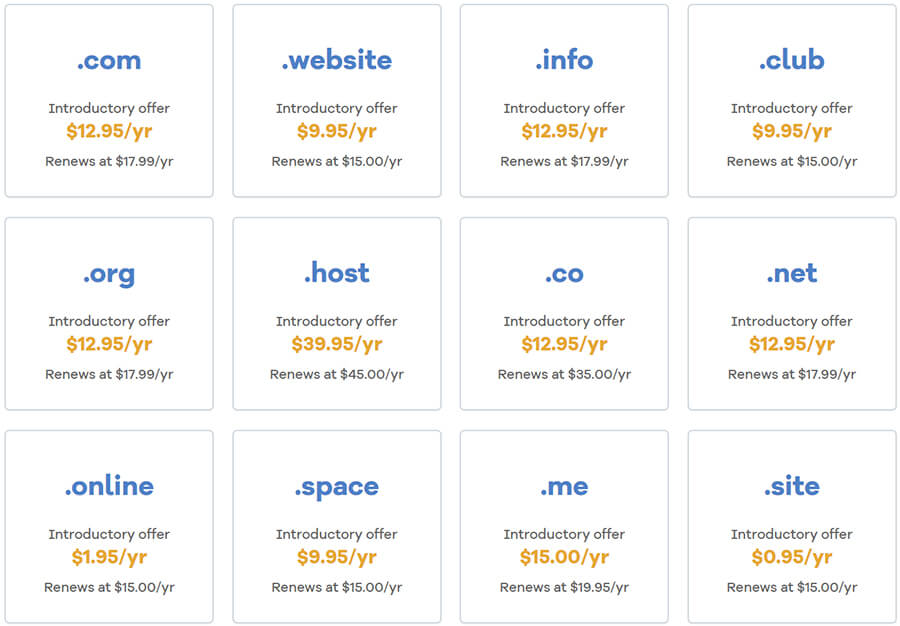 Shared Web Hosting
HostGator offers three shared web hosting plans that prospects can choose according to their needs. All shared web hosting plans come with unmetered bandwidth, one-click installs, a free SSL certificate and free domain registration for one year.

The Hatchling Plan is an excellent option for an individual or entrepreneur who only needs one domain. The starting price for the plan is $2.75 a month, and that includes a single domain.

The Baby Plan is for a business or person who needs more than one domain. This plan has a promotional price of $3.95 a month and offers unlimited domains.

The Business Plan is geared more toward businesses that need help boosting their visits and productivity. This plan costs $5.95 a month, and it comes with a dedicated IP, SEO tools and an upgrade to Positive SSL.
Dedicated Hosting
HostGator offers dedicated hosting plans for clients who need a little more control and space. The company offers three dedicated hosting plans: Value Server, Power Server and Enterprise Server. All plans currently have amazing discounts on them.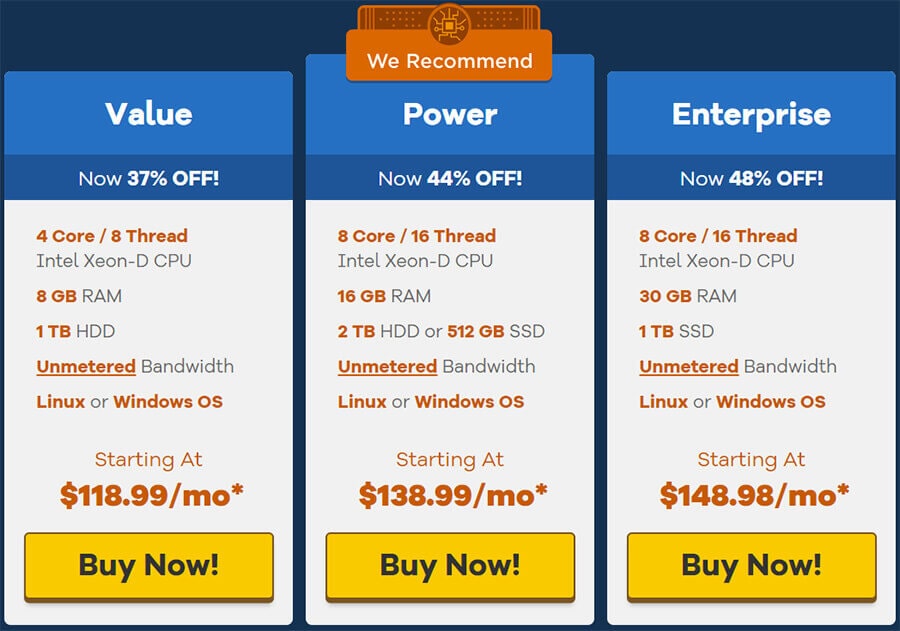 The Value Server has an initial price of $118.99 a month. The plan includes features such as:
Choice of Linux or Windows OS
Unmetered bandwidth
1 TB HDD
8 GB RAM
4 Core / 8 Thread Intel Xeon-D CPU

The Power Server has a promotional price of $138.99 a month. Its features include:
Choice of Linux or Windows OS
Unmetered bandwidth
1 TB SSD
30 GB RAM
8 Core / 16 Thread Intel Xeon-D CPU
Cloud Hosting
HostGator offers some fantastic cloud hosting plans that come with a myriad of features. Each cloud hosting plan has free domain name registration as well as a statistics dashboard and speed that is two times faster than that of other providers. The plans also offer four times the resources.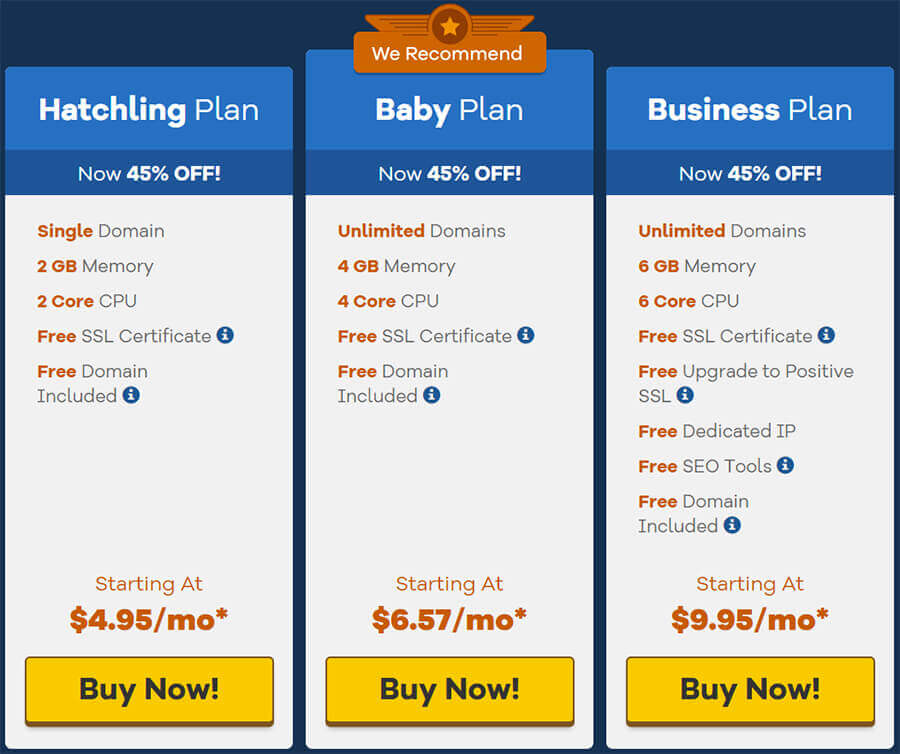 The Hatchling Plan starts at $4.95 a month. Its lineup of features include a single domain, 2 GB of memory, 2 Core CPU, a free SSL certificate and a free domain.

The next available plan is the Baby Plan. This plan offers unlimited domains, 4 GB of memory and four core CPU as well as a free domain and free SSL certificate.

The Business Plan is the plan that the provider recommends for businesses. It offers features such as unlimited domains, 6 GB of memory, six core CPU and a free SSL certificate. Users also receive an upgrade to positive SSL, a dedicated IP, SEO tools and a free domain.
WordPress Hosting
The WordPress hosting plans come with one year of free domain name registration as well as advanced security, free migrations and 2.5 times the speed. The company offers three plans, and they are the Starter Plan, Standard Plan and Business Plan.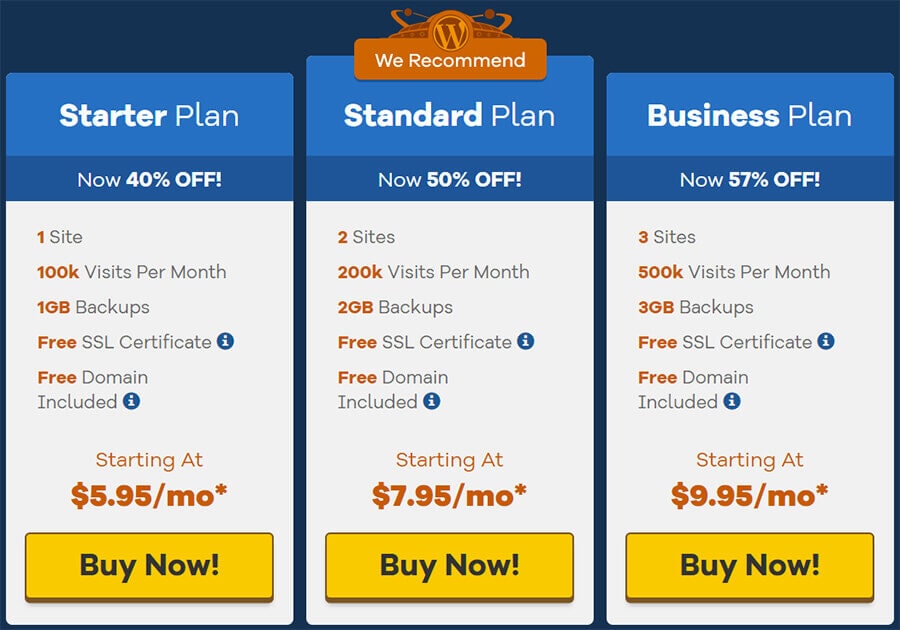 The Starter Plan has one site with up to 100,000 visits per month and 1GB of backups. The price of this plan is currently $5.95 a month.

The Standard Plan has two sites and allows up to 200,000 visits per month. It also offers 2 GB of backups. The price of this plan is $7.95 a month.

The Business Plan has three sites and offers 500,000 visits a month and 3 GB of backups. The price of this plan is $9.95 a month.
Reseller Hosting
HostGator caters to clients who want to earn money by hosting their own clients. The company offers three reseller hosting plan options: Aluminum Plan, Copper Plan and Silver Plan.

The Aluminum Plan starts at $19.95 a month and provides 60 GB of space, 600 GB of bandwidth, unlimited domains and a free SSL certificate.

The Copper Plan is $24.95 a month. This plan has 90 GB of disk space and 900 GB of bandwith as well as a free SSL certificate and unlimited domains.

The Silver Plan is also $24.95 a month. It offers 140 GB of disk space and 1,400 GB of bandwidth along with the unlimited domains and free SSL certificate.
VPS Hosting
There are three choices of VPS hosting programs: Snappy 2000, Snappy 4000 and Snappy 8000. All of these plans are currently at 75 percent off the regular price.

The Snappy 2000 Plan costs $29.95 a month. Its features include:
2 GB of RAM
1.5 TB of bandwidth
120 GB of disk space
2 cores CPU

The Snappy 4000 Plan is currently $39.95 a month. Its features include:
4 GB of RAM
2 TB of bandwidth
165 GB of disk space
2 cores CPU

The Snappy 8000 Plan is $49.95 a month. It offers amazing features such as:
8 GB of RAM
3 TB of bandwidth
240 GB of disk space
4 cores CPU

All VPS plans come with customer support, a full suite of tools and powerful hardware that can drive clients to the top.
Windows and Application Hosting
HostGator offers two Windows hosting plans and application hosting, as well. The two Windows hosting plans are the Personal Plan and the Enterprise Plan. The Personal Plan costs $4.76 a month. It includes one domain, unmetered disk space, unlimited bandwidth and a FREE SSL Website Security Certificate. The Enterprise Plan is $14.36 a month and it offers five domains, a free dedicated IP and a FREE Upgrade to Positive SSL as well as unmetered disk space and bandwidth.
Special Services
HostGator offers special services that can enhance a client's productivity, sales, site visits, security and more. The primary services that one can get are SEO, PPC, Code Guard and Web Design.

Web Design professionals can help create or tweak a site so that it magnetizes potential clients and customers and is easy to find through Google search. The pricing is customized according to the client's needs.

SEO Services are a collection of processes that better a website's performance. Some services include keyword generation and implementation, link building, content creations and more.

PPC or pay per click is a specialized service that uses ads to draw people into a site according to a list of key search words. Clients pay for the clicks that potential customers and members make on the ads.

CodeGuard is a special backup and security feature that monitors and protects a person's site. CodeGuard plans start at $2.00 a month.

This list of offerings is only part of what HostGator has to offer. It has many more features and products that its clients can enjoy. Interested persons can talk to an agent about the myriad of additional options.
10 Reasons to Choose HostGator
There are many reasons that a prospective client should choose HostGator over the competition. We've compiled a list of the top 10.
1. Awards and Recognition
Consumers can never go wrong when they choose a provider that has won awards and received recognition. Providers earn such things when they exceed their customers' expectations and surprise third parties, as well. HostGator has won awards from parties such as PCMag, WPBeginner, Hosting Advice and more. Prospects can feel confident in their choice to consider this successful provider.
2. Year-Round Six-Star Customer Support
HostGator's excellent customer support team is available all year round seven days a week and 24 hours a day. Customers can communicate with customer service members through live chat, telephone and email.
3. Affiliate Programs
HostGator believes in allowing people to share the profits. They offer affiliate programs that allow affiliates to earn at least $65 for every signup they encourage.
4. Free Domain Registration
Not all providers offer free domain hosting. HostGator is one of the reliable providers that do. Customers do not have to burden themselves with having pay for the first year of registration if they choose HostGator as their hosting provider.
5. Highly Reliable Uptime
Uptime is one of the most crucial factors in determining a web hosting company. Poor uptimes can cost a business to lose potential customers and supporters. Fortunately, HostGator has an awesome uptime. It stays up more than 99 percent of the time and is highly reliable in that aspect.
6. Money-Back Guarantee
HostGator stands by its products and services by offering its customers a 45-day money-back guarantee. They will refund all monies to dissatisfied customers, and they will not give such customers any trouble about it.
7. Affordable Plans and Services
HostGator offers some of the most affordable plan options. This allows people of all economic classes to build reliable web sites that can help them to earn profits and sell services.
8. Tutorials and Help
HostGator provides tutorials and self-help information for clients who are seeking guidance. Additionally, they also have a team of experts on staff who will take the time to walk them through issues.
9. Customer Portal
A user-friendly customer portal is available to clients so that they can manage their services, pay their bills and perform an assortment of other processes.
10. Impeccable Reputation
HostGator has a glowing reputation with its clients, and it is the envy of many other hosting providers. Consumers choose HostGator for a variety of reasons, including the stellar customer service, excellent pricing and versatile help system. Clients can always trust in a provider that is a favorite among consumers. They can be 100 percent sure that they will have a pleasant interaction every time.
Three Reasons You Might Reconsider
As you can see, there are many reasons for someone to choose HostGator as his or her provider. Now, here are a few reasons that someone might think twice about signing up with the provider.
Subpar Page Speed
Various clients and reviewers mentioned that HostGator's page loading time is not very fast. Visitors sometimes had to wait an entire minute to get the page to load. A minute is a long portion of time when someone is in a hurry and seeking important information. Therefore, the slow page load time might be a good reason for a prospective client to seek services elsewhere.
Not Many Free Features
HostGator has many features available, but only a handful are free. A prospective client may feel that other providers offer more free addons with their plans than HostGator does.
Must Prepay for Long Term for Advertised Price
The pricing scheme is perhaps the biggest negative of choosing HostGator. The company advertises very low prices for web hosting services, and the prices are indeed low. However, clients have to prepay for at least three years if they want to reap the benefit of the low pricing. This concept might be offputting to someone who has the notion that he or she can sign up for just one month of hosting and pay a mere $2.75, for example. In reality, the person would have to pay for 36 months upfront to get the advertised $2.75 per month price. That person would have to pay $10.95 for a single month otherwise.
The Conclusion
No web hosting provider is perfect. It's our duty to help consumers find the providers who can most accurately fulfill their needs. We believe that HostGator should receive seven points out of a possible 10. It's affordable, reliable and longstanding. Those qualities far surpass any negative aspect that's listed.