Services and Features
These are some of the services and features you'll find at Hostinger. It's not a complete list, but it will give you a firm grasp on what they bring to the table.
Domain Names
Let's start with the domain name offerings since they're the easiest to discuss. Hostinger has a convenient domain search tool that customers can use to check and see if their desired domain name is available. The pricing for domain names varies and can be as low as $.99 for an entire year or as high as $23.99 for the year. However, consumers can get at least one free domain name if they sign up for certain web hosting plans. That's reason enough to try Hostingers services for a while.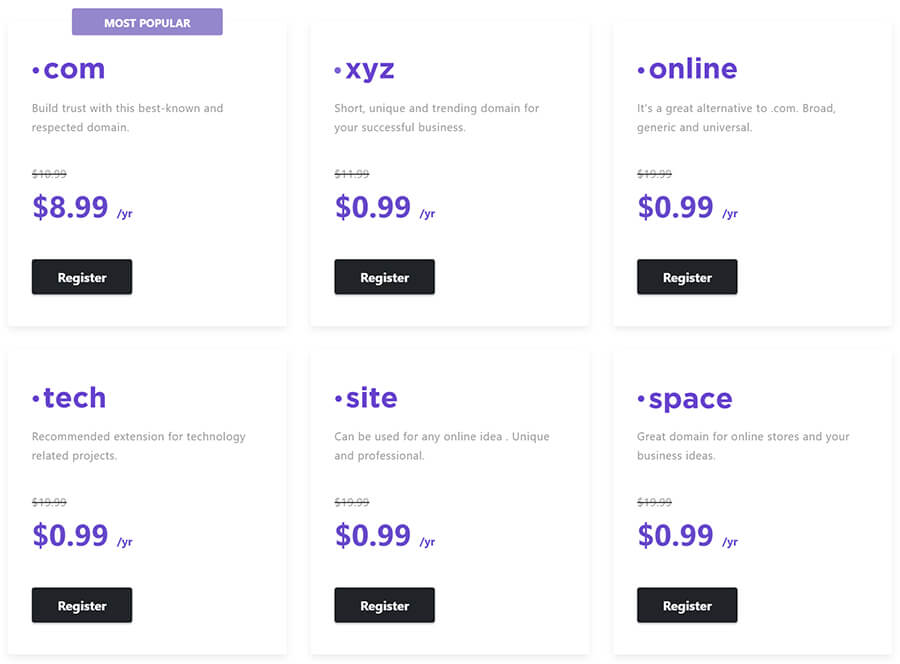 Shared Web Hosting
Hostinger offers several shared web hosting plans, which are the most popular of all options. These web hosting plans are good for small to medium websites. They offer three shared hosting plans: Single, Premium and Business.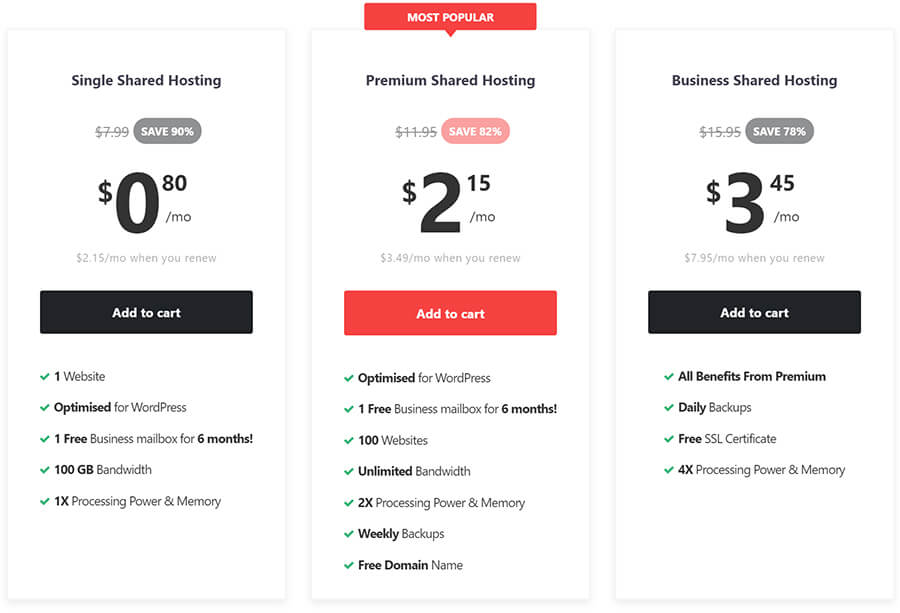 The Single hosting plan costs the customer only $.80 a month during the promotional period. Its renewal rate is $2.15 a month, which is 90 percent cheaper than its regular price of $7.99 a month. New clients will have to renew at the regular price once the promotion year is over. This plan offers one website that is optimized for WordPress. Other features include 100 GB of Bandwidth, 10 GB of disk space, 1X Processing Power & Memory and a free business mailbox for six months.
The Premium Plan takes things up a notch. Its price is $2.15 a month during the promotional period, and it goes up to $3.49 upon renewal. The regular price of this plan is $11.95. This plan offers 100 websites, 2X Processing Power & Memory, weekly backups, 20 GB of disk space and more. Users also get a free domain name with it.
The Business Plan has 30 GB of disk space, 100 websites, unlimited bandwidth, MySQL Databases, free SSL, daily back up and more. It costs $3.45 a month now and goes up to $7.95 upon renewal. The regular price is $15.95.
Email Hosting
Email hosting is excellent for small to medium businesses that don't want the traditional web hosting. Hostinger offers two options: Business Email or Enterprise Email.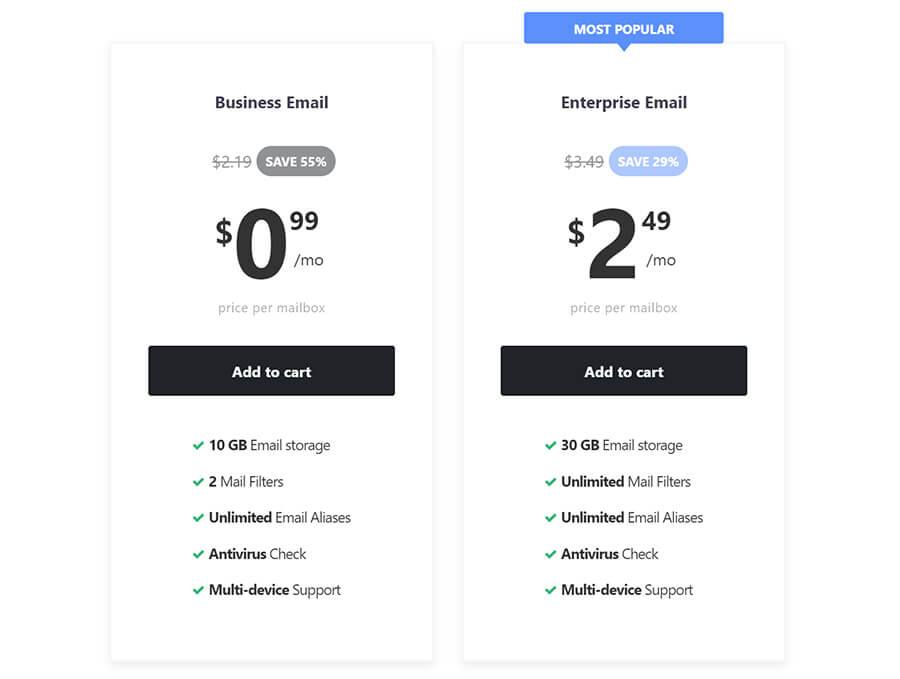 The Enterprise Email hosting plan costs only $.99 a month for each mailbox. The plan includes two mail filters, antivirus check, multivirus support, unlimited email aliases and 10 GB of email storage.
The Enterprise Email plan costs only $2.49 a month and goes up to $3.49 after the promotion. This plan offers features such as 30 GB of email storage, unlimited mail filters and unlimited aliases.
Cloud Hosting
Cloud hosting is the best option for businesses that have large scale projects. These plans offer a massive amount of disk space and unlimited bandwidth. Hostinger offers three such plans: Cloud Startup, Cloud Profesional and Cloud Enterprise.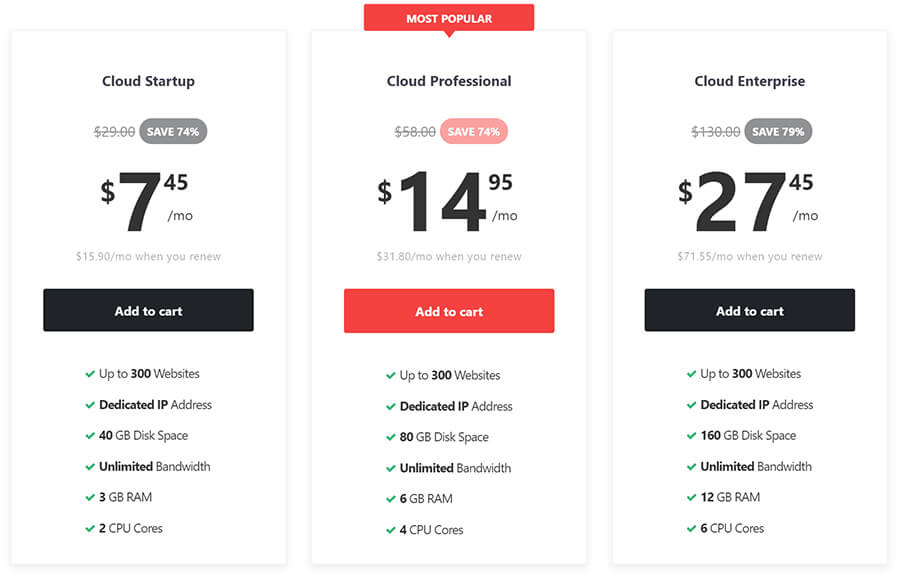 The price of the Cloud Startup Plan is $7.95 a month. A new user would have to pay $15.90 a month to renew. The regular price is $29. Users get many features with this plan, including up to 300 websites. Other features include a dedicated IP address, 40 GB of disk space, unlimited bandwidth, 3 GB of RAM and 2 CPU cores.
The next plan up is the Cloud Professional Plan. This plan costs $14.95 a month during the promotion, and it goes up to $31.80 a month afterward. The regular price is $58. This plan offers features such as dedicated IP address, 80 GB of disk space, unlimited bandwidth, 6 GB of RAM and 4 CPU cores.
The Cloud Enterprise Plan is the one that offers the most to the masses. This plan offers features such as dedicated IP address, 160 GB of disk space, unlimited bandwidth, 12 GB of RAM and 6 CPU cores. The price is $27.45 a month and $71.55 at renewal. The regular price is $130 a month.
Windows VPS and VPS Hosting
Hostinger offers some excellent VPS hosting options. Users can get one to eight vCPUs and have a dedicated IP, full root access, IPv6 support, SSD disk drives and more.

The most inexpensive plan is for 1 vCPU. That costs $3.95 a month and will go up to $9.95 when the promotion ends. This plan offers 1 GB of memory, 20 GB of storage and 1,000 GB of bandwidth.

The highest plan offers 8 vCPUs and has 8 GB of memory, 160 GB of storage and 8,000 GB of bandwidth.The plan's initial price is $29.95 a month, and it goes up to $129.95 after the promotion.

Hostinger offers four Windows VPS Plans to its customers. The lowest plan has 2 GB of memory, four cores, 50 GB of storage and 400 GB of bandwidth. The price is $26.00 a month, and it will go up to $36.00 a month after the promotional period.

The biggest plan is the 16 GB plan. It has four cores, 400 GB of storage and 7,000 GB of bandwidth. The plan costs $250 a month and has a regular price of $300.

The previously mentioned offerings are not a complete list of everything that Hostinger has. It's meant to give prospective clients an idea of many of the things they can receive. Interested persons should contact the provider to find out more.
Reasons to Choose Hostinger Over Other Providers
We found many reasons for people to choose Hostinger over other web hosting providers. The following are some of the most prevalent, but it's not an exhaustive list of all the reasons.
Cheap Web Hosting Plans
Hostinger is just about the best choice there is when it comes to pricing. It's a perfect fit for individuals and businesses that have budgeting as their priority. Hosting plans start at less than $1 per month, which is extremely hard to beat these days. The best part is that although the prices are cheap, Hostinger does not sacrifice one iota of quality for the pricing. Clients get 100 percent dedication and care with any plan they choose.
Tenure
Tenure is an asset with any service provider. Each year of operation is a year of experience the provider has that makes its services even better. Hostinger has been in the web hosting industry since 2004. It has been well seasoned for 15 years, so clients can trust it wholeheartedly.
Strong Reputation With Consumers
Hostinger has a solid reputation with more than 29 million customers. The company always receives glowing reviews for its customer service and offerings. The clients who have given it positive reviews feel strongly about its pricing and its user-friendly platform. The rated reviews are mostly near perfect scores. The words themselves are usually uplifting. People have used terms such as "affordable," "fast," and "reliable" to describe their experiences. That tells us that the masses love what Hostinger does for them, and prospects can have confidence in choosing them.
24/7 Customer Support
One thing that users always need is customer support. Hostinger clients have access to support from the customer service team 24 hours a day, seven days a week, and 365 days a year.
Near Perfect Uptime
Uptime is another important factor when determining the right hosting provider to hire. Hostinger has uptime more than 99 percent of the time, which is what people want.
Sales and Promotions
Customers love getting the opportunity to save money. Hostinger is big on giving people the opportunity, as well. Therefore, choosing Hostinger is a smart choice. They currently have promotions and sales that offer customers up to 90 percent off of regular services. They offer holiday specials and more. The web hosting plans offer high discounts, and they don't go back to the full price right away.
Money-Back Guarantee
Hostinger wants to ensure that its clients feel confident about their services. That's why they provide them with a 30-day money-back guarantee if they are not happy with what they receive. Hostinger openly and confidently offers the guarantee because they know their clients will love what they receive.
Free Domain Names
Hostinger provides free domain name registrations to its clients who sign up for certain web hosting plans. It's their way of thanking their clients for choosing them.
User-Friendly Site and System
Another reason that one should choose Hostinger over other providers is the sheer ease of navigation and use. Not only does the hosting provider have an attractive website, but also it has user-friendly navigation and a highly user-friendly suite of services. Ease of use is always high on the list of reasons to try a specific provider.
Fast Loading Time
Page loading times are crucial because it only takes a few seconds to lose a potential client. Hostinger's clients won't have to worry about losing theirs because they'll have 178ms loading time at the very least.
Amazing Website Builder
Web hosting plans come with an amazing website builder for clients who may not be tech-savvy. The website builder offers quick and easy "drag and drop" options so that customers can build and use their new websites quickly.
Unlimited Hosting Features
The company offers a range of unlimited hosting features for clients to enjoy. Just a few of the features they have access to are features such as webmail access, file manager, GIT, one-click installer and much more. The benefits never end when a client chooses Hostinger.
Affiliate Programs
Hostinger wants to allow its clients to earn while spreading the good news about the company. Therefore, it offers affiliate programs. Affiliates can earn a 60 percent commission from every sale they close. Additionally, they receive personal managers who will help them with their processes. Signup takes only a few minutes can give members a lot of profits.
Reasons You Might Think Twice
You know many of the reasons that Hostinger is a good fit. Now, look at some of the reasons you may not think it's such a hot commodity.
No Dedicated Web Hosting Plans
While Hostinger has an excellent lineup of services for small and medium-sized businesses, it could be lacking in the area of large businesses and enterprises. The company does not have any dedicated hosting plans. That's fine for many clients, but it could be a deal-breaker for others.
Lack of Windows Options
Hostinger doesn't offer a lot of windows options. It does offer some Windows VPS hosting options, but that's about it. This might displease users who are looking to operate on Windows-based platforms.
Lack of Phone Support
Hostinger does have 24/7 customer service. However, they do not provide customer service over the phone. Their clients get in touch with them over a chat program. They do have an email address for email support, but they do not offer phone support at this time. This may be a reason for some people to back off of ordering their services. A lot of consumers still prefer phone support.
The Conclusion
Overall, we felt that Hostinger deserved seven points out of 10. The only reason it didn't get a perfect 10 was for the lack of dedicated servers. The company could easily change that by adding more services that accommodate larger businesses and enterprises. Otherwise, it's still an above-average pick, and we still think that many people would benefit by signing up for services.

You now know a lot about what Hostinger has to offer. Now you need to take your knowledge to the next level and reach out to the provider. Consult with a specialist and ask about current promotions and features today.